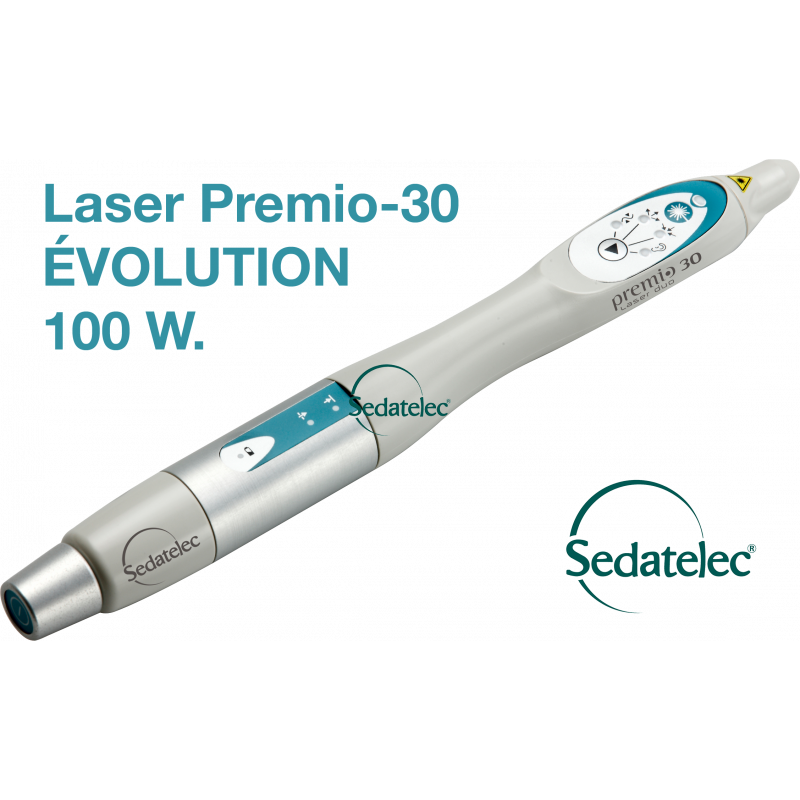  
Laser PREMIO-30 Evo 100 W by Sedatelec
PREMIO 30 EVOLUTION DUO 100 mW
LASER SEDATELEC
Acupuncture

Auriculotherapy

Dentists

Veterinary
Marco Polo Direct - EMPC sas official seller of Sedatelec sa
LASER 904nm 15 to 100 W
 
PREMIO 30 Sedatelec Laser according to the 7 Nogier frequencies It is the substitute of the old NEXT LASER and of the NEXTLASER EVOLUTION.
Wireless laser: light, perfect for clinics or on the move.
treatment methods: - Tonification - Dispersion - Harmonisation - Scanning
2 adapted powers : - for superficial points (15 Watt) - for deep points (100 Watt) More than 10 hours working time thanks to the rechargable battery.
Wavelength: The 904 nm infrared emission crosses the skin barrier to reach the deepest cells and penetrates in complete safety without being absorbed by water, haemoglobin and the melanin of the skin.
Peak value: the laser beam is emitted as short impulses of high peak power. This method of emission gives the laser beam the necessary power to enter tissues entirely safely without any thermodestructive effect, carrying the useful information to the point.
Adjustable power: 15 or 100 Watts power is adjustable depending on the desired depth :
Superficial points: surface points (face, ears)
Deep points: other body points.
Application time: short treatment : from 30 seconds to 1 minute for each point. This application time provides the optimum energy per points taking account of the physiological body reaction time.
Marco Polo Direct - EMPC sas official seller of Sedatelec sa
You might also like