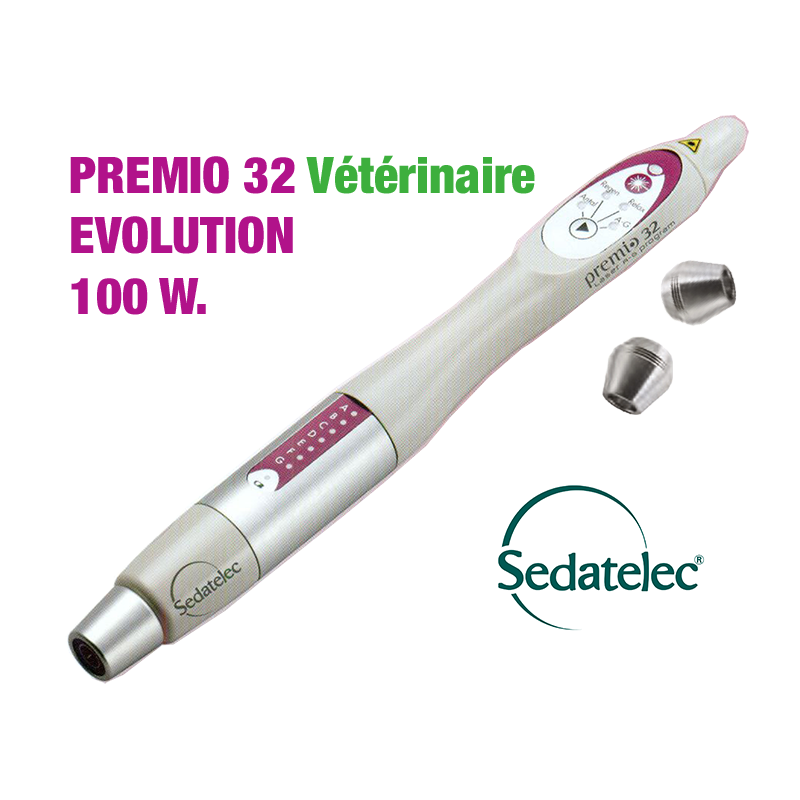  
Laser PREMIO-32 VETO Evolution 100 W by Sedatelec
LASER 905 NM 100 WATTS PREMIO 32 EVOLUTION- Sedatelec
With a less power nozzle (ERP)
With 2 x VETERINAIRY NOZZLES 
Acupuncture
Auriculotherapy

Kinisiology

Sport Medecine

Dermatology 
Marco Polo Direct distributor of SEDATELEC
LASER 905 nm 100w PREMIO 32- Sédatelec
With a less power nozzle (ERP), efficient, light and ergonomic. Wireless laser, perfect for the consulting room or on the move.
With 2 x VETERINAIRY NOZZLES 
4 stimulation programmes: analgesia, tissue regeneration, muscle relaxation and Nogier frequencies scanning
- Individual choice of Nogier frequencies
- More than 10 hours working time (rechargeable battery) Associations of Nogier frequencies : physiological effects
3 basic programmes:
- Analgesia This pain treatment programme (frequencies E and G) reduces transmission of pain information to the central nervous system. Its local action on the inflammatory process improves the patients experience and the quality of the local reaction.
- Tissue regeneration: This programme (frequencies A, B and F) accelerates tissue reconstruction, restores cell functions, accelerates both superficial and deep healing and regeneration processes
- Muscle relaxation: This programme (frequencies C, D and G) facilitates relief of tension and contractions.
- 1 universal programme: Nogier frequencies scanning. Programme A-G: a successive emission of all the Nogier frequencies (frequencies A, B, C, D, E, F and G)
- Individual choice of Nogier frequencies: Each frequency of the 7 Nogier frequencies can be selected individually. Each frequency acts on a specific physiological function.
Sedatelec expertise recognised in superpulsed laser: Short impulse bursts (superpulsed emission) are set to the Nogier frequencies. They deliver an energy of 2 joules per minute with a 100 W peak power. This 40 W peak power impulse mode provides the laser beam with the necessary power to reach as far as the deepest cells and therefore provides the necessary information to the efficient mobilisation of body resources, locally.
Cells are stimulated for a short time with a sufficient energy to trigger the biological expected reaction. Emission at reduced power is possible using the less power nozzle (ERP) for thinner areas (mucous membranes) or more delicate body parts (face or pinna).
Optimum efficiency: The 905 m infrared emission crosses the skin barrier to reach the deepest cells, entering entirely safely without being absorbed by water, haemoglobin or melanin.
Short treatment time: from 30 seconds to 1 minute.
Marco Polo Direct distributor of SEDATELEC
You might also like