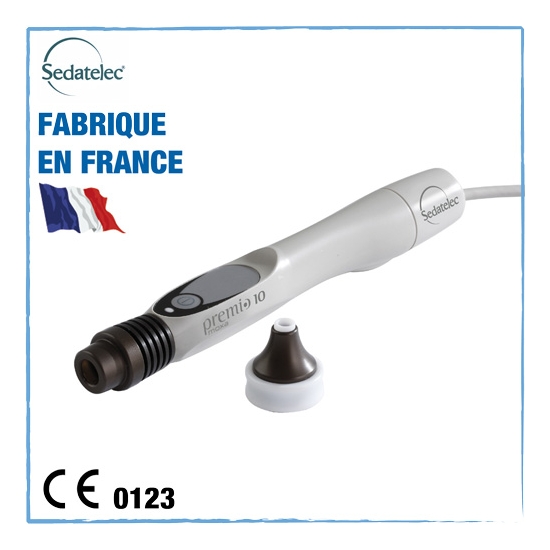  
Electrical Moxibustor PREMIO-10 Sedatelec
Moxibusteur électrique Premio 10 Moxa
Electrical moxibustor, the PREMIO-10 MOXA
With its infrared emitter at a "moxa-like" spectrum, Premio-10 is innovative for a safe, effective and pleasant moxibustion. Thanks to its concentrator, Premio-10 focuses on a point to achieve your action of tonification or dispersion. Electrical moxibustor with adaptable plus. CE 0123 Made in France, 2 years guarantee.
Acupuncture and moxibustion Like with a moxa roll, specific heat is applied to strengthen the Yang, to move the qi or Blood stasis etc... Same method, same results !
Thermal Needle Effect The Concentrator enables the practitioner to focus on a point to achieve tonification or dispersion results.
Auricular therapyPoints or areas can be treated in seconds. Stimulation of other receptors is possible with this original and safe technique.
Trigger points, Local treatments A penetrating heat is applied on exact trigger points, on a painful or stiff area. All the benefits of mid-wave and long-wave infrared are leveraged to treat chronic ailments of muscles and joints.
You might also like